First published in Spoke Magazine.
The beginning
On the 19th of October 2021, I went for a bike ride.
That's not surprising or unusual, considering I'd also ridden every day for the previous 1,387 days. But this one was a little bit next level, you could say.
Looking back, the prompt came from a small dog called Rustle. He joined our family in April, and we decided to drive the 1,800km round trip from Nelson to Edievale, West Otago to pick him up.
Y'know when you're driving along & you look out at a mountain range wondering what would happen if you could somehow climb over it? That's the "Between" & there's a lot of it in New Zealand. On a map you can see that between Omarama & Otrehau – there's a bunch of mountains, rivers & blank bits – but what does that really look like on the ground?
During the puppy collection trip, an idea started to form about connecting bits of the Between into a multi day bike adventure.
My bike is a Trek Rail 7 2021 & my purchase can be traced to a particularly stupid ride I did in 2009 at Lake Tekapo.
At the time I was a fairly fit 30-something who thought that riding around Lake Tekapo in the snow on a fully rigid commuter bike with 38mm tyres would be good for a laugh.
Whatever I did to my body that day triggered an autoimmune condition I live with now. The condition is ankylosing spondylitis, an inflammatory arthritis where my body overproduces inflammation, which attacks my joints & organs.
By the end of the year I was hobbling around on a walking stick, the next year I ended up in ICU with complications. My body, life & mental wellbeing fell to pieces.
But here I am, writing about riding over 800km so things must have worked out in the end, right? Yes – after learning the balance of diet, sleep, work & exercise I need to keep my arthritis at bay & the pedals turning.
Electric bikes are a big part of arthritis friendly exercise. I walk a fine line between getting enough exercise to keep my body & mind happy while not overdoing it. Having electricity on tap to take the load when needed has been key to traversing the Between.

The plan
Using maps & the Strava route explorer, I saw it looked totally viable to join up the Oceans 2 Alps trail with the Central Otago Rail Trail with the Clutha Gold Trail with minimal highway riding, by riding a lot of the "Between".
That meant I now had a route, a bike, & all I needed was a way to carry gear for 800+km. Rather than festooning my bike & body with baggage… why not take a trailer?
Weirdly the more I thought about riding with a trailer the more it made sense. I could carry as much as I wanted (foreshadowing) & then just unhook to ride trails when I got somewhere interesting. A bit of interweb research & a chat with the guys at Burkes Cycles took me to the Topeak Journey TX, a rugged trailer that can mount onto Boost thru-axles.
Bike, batteries, route, trailer, two weeks off work – let's do this thing.
Beginning at Lake Tekapo wasn't my initial intention, but it worked really well with the route, & I liked the symbolism of starting from the spiritual birthplace of my arthritis as a way of raising my middle finger to a medical condition that had cost me so much, but also motivated me to thrive.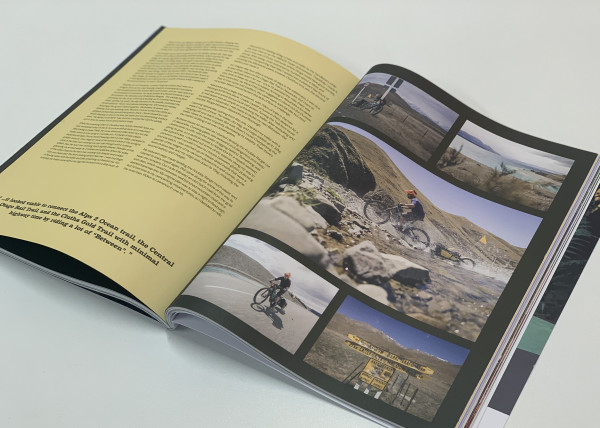 Let's go
The first Between I wanted to explore was between Lake Tekapo & Twizel. Driving around Christchurch & Queenstown/ Wanaka it's hard not to notice the massive hydro canals of the McKenzie Country.
The good news was the scenery was majestic, the canals were glacial blue & the threatened rain never arrived. Freedom!
The not-so-good news was that much of the canal paths are wide flat gravel, & I'd put enough cargo into my trailer to make it act more like a plough. Between dragging the trailer & battling headwinds I was burning battery at a fierce rate & resorting to power settings which have no place on a functionally flat canal path.
My first night in Twizel gave me valuable time to reassess how much gear I'd packed. Having three jackets & a week's worth of food had seemed like a good idea, but a day of ploughing showed how it could become a literal burden. I wouldn't forget that lesson in a hurry (foreshadowing)!
Day two was a real mixed bag – starting with a wild animal attack as a magpie took offence at me being within view of its nest & repeatedly attacking my helmet as I rode out of Twizel. The magpie attack was replaced with cold dull skies & road riding alongside canals.
Just as I was beginning to question my sanity & route choice, the clouds lifted, a wall of white peaks presented themselves over the glimmering blue of Lake Ohau & importantly – I found some real singletrack. My spirits lifted & a silly grin spread over my face as I poured the bike & trailer around the edge of the lake.
A spot of lunch later I headed up the lake through an increasingly surreal landscape. In October 2020 New Zealand's most devastating bushfire in modern history ripped through 5,000 hectares here. A year after the fire the landscape was a strange mixture of blackened trees & new green growth as nature healed the wounds left by the fire.
The views were spectacular as I rode towards Lake Ohau Lodge & the next leg of the trail, the Tarnbrae Track – which felt strangely out of place on the Alps2Ocean ride. Following what I can only assume is an old pack route, the track gradually climbed through scenic beach forest, with even more scenic views of lakes & mountains.
The track became increasingly more alpine, traversing avalanche zones & finally topping out at 900 metres above sea level. This high point was followed by a rocky descent to a bunch of random country roads and Omarama, where some real Between exploring would begin.
So far I'd followed fairly well signposted & documented cycle trails, with a good chunk of the ride following the Alps2Ocean trail. Day three was going to see me throw caution to the wind & head out over a mostly blank part of the map connecting Omarama (pop. 291) with Oturehua (pop. 112). What could possibly go wrong?

Into the Between
It turns out if you forget to charge your e-bike battery, that can really mess with plans. I needed to sleep near power sockets & swap the charger between batteries some time in the late evening. Falling unconscious at an inopportune moment could mean significantly less battery the next day.
My Trek Rail 7 came with a Bosch Powertube 625Wh battery, which is great for day riding, but introduces significant range anxiety if you're planning to ride 100+km towing a 20-30kg of trailer. At home I often used a second 625Wh battery on my longer backcountry rides.
On this trip I was pretty much emptying both batteries each day, partially due to long distances with the trailer, & partially because I was using the onboard smarts to work out when I could jack up the power to "Turbo" & cruise the final 10km to my night time stop.
The batteries take around 90 minutes to charge to 50%, but close to 4 hours to fill. Waking up to one full battery & one emptyish battery wasn't the end of the world, but it did slow me down as I got the second battery up to 75%.
Heading out of Omarama I couldn't help noticing that I was on a very straight very dull country road, & the snow capped mountains it looked like I was going to cross were towering above the horizon like a wall of rock & pain. Just as I was about to be enveloped in mountains my route turned southward towards a far more promising looking saddle between the Hawkdun Range & St Bathans Range.
However, the rocky 4WD track leading up looked heinously steep – on the edge of me & my bike's capabilities. I gritted my teeth, moved as far forward as I could in the saddle, switched to Turbo, & started climbing around 700 vertical metres.
Amazingly, we held it together. Even with the trailer I could maintain enough traction while keeping the front wheel down. The battery, however, was draining at an eye watering rate – making me wish I'd charged my second battery the full 100%. Patches of snow turned into drifts, & towards the top I gingerly picked lines between snow & precipitous drops. I was torn between keeping an eye on my line, the incredible mountainous views – & my plummeting battery level.
The battery tipped over to 1% as I made it to the top of the 1,357 metre saddle. Just in time for views, lunch & a battery swap. While the 51km ride to Oturehua was mostly downhill, I've ridden enough "mostly downhill" rides in my life to know my battery optimism could be misplaced.
Have you ever wondered what it's like to hit a snow drift at pace on a mountain bike towing a trailer?
First, the snow slows your bike down, which means the trailer is now travelling faster than your bike & will start to try to pass you - which is disconcerting at least & horrifically dangerous at worst. A couple of hysterical giggle inducing near-death experiences later, I found myself heading down a river valley carpeted in golden tussock.
How magical – look at the tussock shine in the sunlight! Look at the little river crossing you can ride through with a comical splash! See the next river crossing that is slightly deeper. Wonder at the glistening snow melt water as it trickles & splashes down the sides of the valley! Gasp as the next river crossing was deeper & colder than you expected!
You can probably see where this is going. There were a lot of river crossings & every one was carrying even more water from the snow melt. Fortunately, my trailer came with a dry bag that turned it into a little boat across the deeper river crossings.
The final river crossing almost had me. I was mid-thigh in icy water, gripping 50kg of bike & trailer by the handlebars while the river tries to rip my trailer boat downstream. Thankfully I made it, but it was one of those moments where things could have gone horrifyingly wrong.
After that bit of festivity, I set into a pleasant few hours of riding across the Maniototo plains towards Oturehua & yes, the second battery just made it.
Day four began on the Otago Rail Trail. After a couple of days in the wilderness it was nice to see other riders. I hit Alexanda earlier than expected, and my friend Phil Oliver suggested I check out the Dunstan Trail. In true cycle trail tradition the views are spectacular but the trail itself would leave most mountain bikers champing at the bit for some flow or challenge.
To make up for the rail trail blandness Alexandra has a large trail network, with 70km of trails in the new Matangii MTB Park alone. I made myself at home in Phil's sleepout for a rest day with some bonus local trail action. Turning the Trek from tourer to slavering trail beast was as simple as unhooking the trailer.
After some restocking & socialising in Alexandra I was ready to tackle my next Between – the Knobby Range between Alexandra & Roxburgh.
Learning absolutely nothing from day one, I over-packed my trailer with a week's worth of food. Adding 27kg to the 7kg trailer & drybag leaves you with 32kg hanging off your back wheel. But wait, there's more! Over-packing the trailer raises its centre of gravity & decreases its stability. There's also the matter of how you lift it over a closed gate.
All of these issues hit me hard as I started climbing the Knobby Range out of Alexandra. Crossing gates was awkward to dangerous & steep climbs were a horror show with the trailer dragging like a ball & chain. A tactical retreat for a serious repack was required.
Some hard choices later my cargo was down to 15kg, including the second battery & charger.
That made tackling the Range significantly easier, & with Phil along for the ride I started to enjoy myself again. Our route followed an old coach road from the gold rush days. Sometimes it was a well benched mountain road, sometimes just a dashed line on the topomap.
My original plan was to stay a night in Roxburgh, but I'd lost time to my overpacking misadventures & decided to ride the 110+km to Lawrence in one hit.
Enter the Clutha Gold, one of the country's newer cycle trails running from Roxburgh down the mighty Clutha River. I was both pleasantly surprised & slightly disappointed. A lot of the trail was digger built & meandered alongside the river, which made a nice break from long straight rail trails in the burning sun. However I had to face up to a disappointing fact of geography – the Clutha River is really really flat.
Alexandra is 2 hours drive from the ocean, yet only 150 metres above sea level. Lawrence is only 118 metres above sea level – so in 112km of riding down a river I'd lost 32 metres of total altitude - less than on my 3km morning commute. No gravity-assisted riverside cruising for me, damnit.
Middlemarch was up next. A gravel back road took me through plantations, tussock, farmland, the picturesque Lake Mahinerangi & half a dozen valleys I had to descend into & slog back out of. It was a beautifully remote Between with hardly any other souls to be seen all morning. Lunch time saw me joining State Highway 87, but the traffic was light & the forecast thunderstorms never happened.
Leaving Middlemarch the following day I was back on my nemesis the Central Otago Rail Trail. Don't get me wrong – ridden with other people rail trails can be a great social break away from the grind. Ridden solo they're a potential descent into madness, without a library of podcasts to keep you from talking with yourself out loud.
The good news was I was heading towards one of my mountain biking happy places – Naseby. The town has grown a bit in the 26 years since I first visited, but still retains its remote quirky charm. It gave me the opportunity to catch-up with local trail legend Kila Hepi & get out to enjoy the local trails in the dusky light.
I started my second to last day of the trip with a sneaky morning raz on the trails, before giving Naseby a fond farewell & heading for some frankly intimidating mountains. Today's Between involved crossing the mighty Hawkdun Range & making my way to Kurow.
Danseys Pass is a gravel route I'd driven before, but there's a big difference between driving & cycling a road like Danseys. Pedalling into the mountains allowed me to drink in the epic views from every angle. The road & surrounds are smattered with gold rush remnants, from stone built sidings to ruined bridges.
I run out of superlatives to describe the top of Danseys Pass. The view was incredible, but having ridden there added a helping of satisfaction & achievement. All I had to do now was ride the 67km to Kurow.
Betweens are often just that – between. The country roads before I re-connected to the Alps2Ocean trail blurred into monotony & I was very glad to finally connect to a cycle trail which took lots of random diversions, detours & surprise river crossing as it meandered through the countryside.
Kurow was the final night of my cycle trip & a good place to take stock. My bike & trailer were filthy yet functioning. My body was wary but I hadn't had any major issues with my joints or muscles. There was a bit of chafing action, but some supersize helpings of cream kept my downstairs relatively comfortable.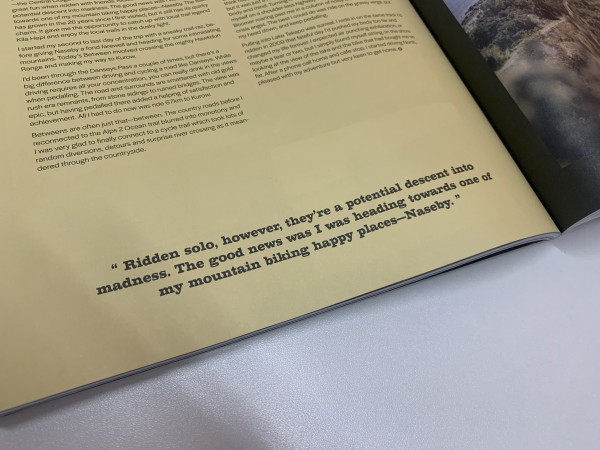 The finish line
With a case of get-home-itis, I was out the door at 7:30am & headed into one of my less known or populated Betweens – the mighty Hakataramea Valley. The ride started on a sealed country road under grey skies with the sun fighting to be seen. By the time I ran out of seal the sun had won & was in full force for a pleasant gravel ride through a high country station.
As I entered the mountains proper, the road remained maintained enough that a normal car with decent clearance could drive through. A lunch stop in the last shade before the saddle gave me time to check my progress & guestimate I was less than 3 hours away from Lake Tekapo.
Approaching the Hakataramea Saddle I was expecting the flush of achievement – but I hadn't anticipated the most panoramic, awe inspiring view of the whole trip. Laid out below me was the McKenzie basin, flanked by snow capped Southern Alps with Aoraki/ Mt Cook standing sentinel over the landscape.
With an exhilarated whoop I gunned my bike downhill, drinking in the scenery, congratulating myself that the finish was in sight & really looking forward to seeing my family again. I had three quarters of a battery left, the road was rolling downhill for 15km – easy, right?
The uphill I was ready for, the headwind I wasn't. The McKenzie Basin is aptly named & my route descended into basin then climbed up towards SH8 on the Northern rim. Blowing in from the Northwest was a hot, strong, gusty wind – yes Cantabarians, that one.
I gritted my teeth, I tried to think happy thoughts, I pumped up my power setting to Turbo. But really, it was just one last grind.
Finally pulling into Lake Tekapo was somewhat surreal. I rode in on the same track I'd ridden in 2009 that fateful day I'd pushed my body too far & changed my life forever.
I'd expected to feel air-punching exhilaration, maybe a tear or two, but I simply found myself sitting on the shore, looking at the view of the lake, & the bike that had brought me so far.
The trip had been a success. I was incredibly lucky with the weather, & my route had been a great mixture of quiet country roads, cycle trails & backcountry exploration. The e-bike & trailer setup had worked incredibly well – as long as I didn't try to pack the kitchen sink. In many ways it was like a road trip without a car. And now, I was very ready for home!
It's been almost a year and a half since then. Despite – or maybe because of – a touch of long covid for my compromised immune system and an epicly busy schedule, a part of me is looking out the window and starting to dream again. Is it time for another adventure?
Absolutely, I just need another epic route, a couple weeks off work, and me and my trusty trailer will hit the road.